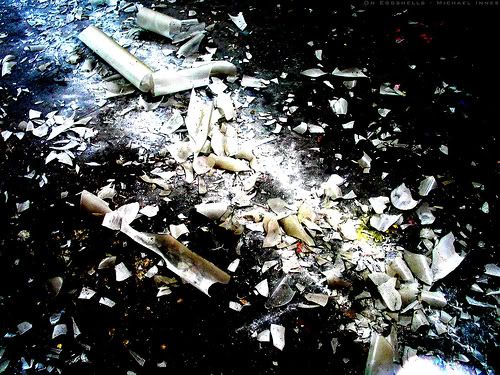 Eptin on Flickr
I've had a whirlwind of a last 24 hours after a rather large screw up went noticed. I wished I had been more careful, and it was incredibly easy to be critical in retrospect – as my best friend once said to me 'hindsight is 20/20!' It is so true, there is absolutly no way to foresee and plan for prevent all the chaos that happens in this crazy world. After mitigiating most of the damage (MOST – yikes!), there wasn't much left to do but reflect, and you know what? Sometimes it's great to screw up because of that! Here's why…
You learn what dosen't work.
The thing about being successful is that it's a lot difficult to pin-point what caused the success than what caused the failure. I'm not saying you should seek to fail, of course, but learning what dosen't work if you so happen to fail means your knowledge of what not to do is going to expand.
Obviously, you don't have to fail or screw up to learn what dosen't work – but if you did perhaps you needed know what ever it is you know now!
You have an opportunity to learn how to react.
So much of life is how you react to it, which is why different people can have a unique perspective of one situation. Learning how to react to failure is only going to get easier later in life, so keep learning and you'll keep reacting better.
You can gain a new perspective on a situation.
You might learn something that completely changes how to view a situation & you may find yourself wanting to completely take a few steps backward. It's easy to get swept up in something, and then when we fail really take a hit but looking at it again in the whole will help you to really see where you're standing.
You have an opportunity to improve.
So you've failed, you've learnt what dosen't work. You've reacted and gained perspective…now you have an opportunity to really improve. Improvement is ongoing, and we're doing it every day. You can use your failure be a direct motivativation and instruction on exactly where you're going wrong!
You have a chance to be innovative.
Innovation is a good thing, and sometimes getting yourself out of a sticky situation requires a little bit of innovative thinking – which is a great thing to practice & you'll probably learn a whole lot in the process.
You gain experience.
Our experiences shape us, and provide us with valuable life lessons. There is no reason that learning and improving yourself from some failure shouldn't be a part of that. You come out of it wiser and more equipped for dealing with bad situations as a whole.
You can use your experiences to teach others.
You've got a real life example of what went wrong, why it went wrong, and how you recovered & improved. That information could be valuable to others, and it's so good to pass information on to those who have trouble seeing the big picture.
You can learn, in retrospect, that things aren't really as big a deal as you think.
Of course when something first went wrong you had a "oh shit" moment, where it seemed as if the world was having a feild day over your mistake. Usually this isn't the case, and it probably isn't as big as you make it out to be (aside from some media-frenzy related situations!) At the very least, it probably won't be as bad at some point in the future and you really may be able to come out of it a better person.
You develop mindfulness.
Mindfulness, in this sense, is in some ways a 'preoccuptation with failure.' I don't mean concentrating on the bad at all times, but reflecting on what hasn't worked can certinatly create a mindfullness that is able to identify when some calamity is about to occur. You can become better at knowing how to avoid these messy situations.
Now you can try new things!
Okay, so you know what dosen't work and you've learnt all this stuff from the ordeal – now you can get on and try a new approach & hey, this one might just work in a way the last one just couldn't have.
Ultimatly, I think the best thing you can do is undertand that mistakes are not an exception, and everyone makes mistakes on the path to being great. Greatness dosen't happen over night & you're only harming yourself if you dwell on what's wrong, and don't learn from it and move on.