I have been away from blogging over Christmas, everything got so damn hectic! Regardless, I wanted to end the year with a recap of my favorite, and least favorite fashion trends in 2009.
I have changed a lot in 2009 with regards to my perception of fashion and style. I started 2009 at 19, more into dressing up to visit bars, parties, and watch bands play. General wear was much a second thought. However, I was beginning to seriously think more and more about what I was wearing all the time (rather than just in the evening).
The resulting change in my attitude to fashion and style has been worth it. I don't spend so much time wishing I had someone else's outfit, I have some of my own that I really freakin' love.
So here we have it, my favorite and least favorite fashion trends of 2009!
Favorite (The Best)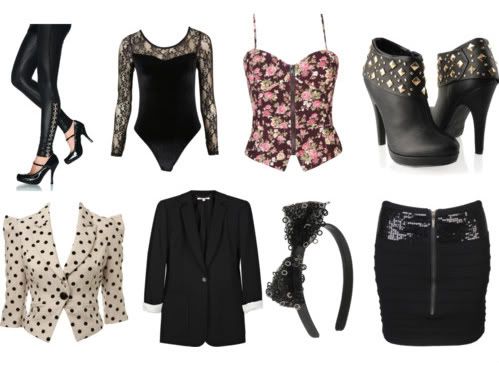 Wet look leggings These were awesome worn over long line tops, with a rock chic vibe that fit in the the bar I was frequenting. I loved pairs that had detailing on the lower side of the leg. Pair'd with strappy heels, the look was tough and glamorous.
Leotards I laughed at these at first, and how wrong I was! I do dislike the logistics of going to the bathroom involved but they fit like a charm and look great with all kinds of shorts and skirts.
Studs Studs make anything 10x more badass. I have a studded back which I'm carrying with me everywhere lately. It creates a rock chic vibe and makes anything else you're wearing look a little more stylish.
Structured shoulders I cannot explain my fascination with the structured shoulder trend. I don't have anything up this ally, but seeing jackets featuring a structured shoulder never fails to catch my eye.
Blazers These look great chucked over almost anything, and smarten it up. My favorite black blazer never fails to make me look awesome.
Exposed zippers I love this trend, the only downside is when your friend thinks it's a clever idea to unzip your zip front dress in the middle of a busy bar. I caught her hand before she pulled it past my chest but it was still rather unpleasing. This inconvenience aside, I still rock an exposed zipper from time to time. I love them on skirts, but I'm yet to own such a piece!
Bows I have an infatuation with bows, they look cute on anything!
Floral The floral this season has blown me away. I have previously been terribly unenthusiastic about anything floral, but this year I've wanted it all. Floral leotards, corset tops, dresses and bags all sit in my wardrobe at this moment.
Honorable mentions Matte and pale nail polish, nude high heels, the prominence of Karen Walker jewelery
Least Favorite  (The Worst)

Fringed Shoes These were a little bit frightful, often reminded me of little monsters!
One pieces/"Jumpsuits" Fashion magazines tried so hard to make these look as if they'd work in "real life," unfortunately they continued to look ridiculous 99% of the time despite their efforts. Not to be confused with playsuits however, which I think are really cute!
Maxi dresses You're either in the 'love it' or 'hate it' with these. They can look great on some people, and I have seen some good looking maxi dresses out there – but they're not for me. I prefer my legs to be free!
Harem pants Ack, no drop crotches!
Tie dyed and acid washed denim I tried to love it, but jeans in this style just kept on disagreeing me the more I was exposed. I do like distressed denim, and a little faded denim but the over the top stuff is a little unappealing.
Honorable mentions "Jeggings", boyfriend pants, over-the-forehead headbands.
What was your favorite/least favorite fashion trend in 2009?