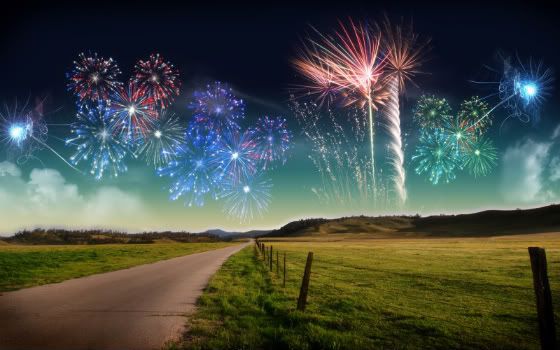 New Year by ~nuaHs on deviantART
First & foremost, HAPPY NEW YEAR! If I were to write a letter to 2009 it would be a love letter, and a thank you for the wonderful things it has bought me.
For introductions, and farewells. For learning, and inspiration. For new ventures and opportunities. 2010, you have very large shoes to fill!
This time of the year brings with it the perfect motivation for getting organized and giving your life a real shake up! It is prime time to mold and shape new ideas and re-evaluate where your energy is currently invested.
While I want to focus on blogging, these principles can still be applied to so many different areas of interest.
Take A Serious Look At Your Blog's Direction
The heart of blogging is producing quality content for an audience you know & love to write for. It is about providing relevance and value, and being genuinely interested in your particular niche. This is your direction – and from time to time it is so important to take a serious look at weather you are continuing in that same direction you intended.
I started writing this blog because I wanted to share my knowledge of fashion and life style from the perspective of a New Zealander, and combine that with my interest in savvy marketing & PR for stylish ladies.
In many ways, I consider myself to be heading in the right direction, but like anyone I sometimes forget! I start writing for the wrong audience and wonder why I can't get another paragraph out of myself.
Quite simply, I'm not passionate about those other things, and writing with inauthenticity does not quite do it for me.
Do You Need To Make Any Changes?
Remind yourself of why you are doing what you do in the first place – and who in particular you had been trying to reach.
You may have to take a step back in order to take a step forward, but it is so worth it and incredibly refreshing to feel that you have a clear cut direction.
On the other hand, you may not feel as if you had a particular direction in the first place. Now is the perfect time to establish one. Figure out what you are passionate writing about, figure out who your audience is – how are you relevant to them.
Some reading for the interested:
How to Choose the Right Blog Niche: A Simple Three-Step Method
How to Choose a Niche Topic for your Blog
Time and time again I find that the more focus I have, the more I enjoy publishing for JoanneFaith.com. Quite simply, I am more focused on what I am passionate about.
Be detailed, and be elaborate. Think clearly about what you really want to write about and blogging becomes 1000x a more rewarding and enjoyable experience.
I am so excited about continuing to fine tune my blog, and steer myself in the right direction for 2010. What about you, my lovely readers?
Goodluck for 2010! I can't wait to see what the new year has in store.