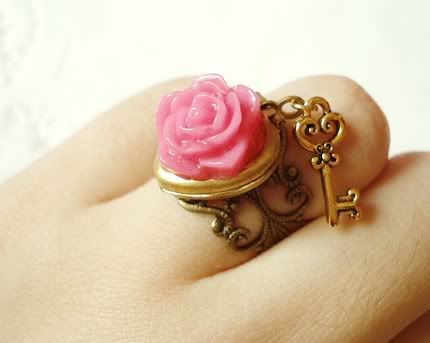 Pretty Pretty Rose Shaped Ring via Jewel Me Pretty
I am excited to be one week closer to returning to study, I am really looking forward to this years papers and semester one starts on March the 1st. This will also mean cutting out full time coffee making, which is a reasonably interesting job but still rather exhausting. I was lucky enough to snag a three day weekend this week though, and it has been pure indulgence.
Short Stories
Taking more photos, it is awesome having pretty pictures to look back on, and I love uploading and sharing them. The only downside is that I haven't figured out which batteries won't die obscenely quickly. ♦ I added a farewell party for a friend who is moving to Thailand (wow), the party was held at my favourite Honey Bar where the cocktails are divine & I can order a Vodka, cherries & soda (swapping out the standard lime).
I love cooking breakfast, scrambled eggs on toast for cheap! I make good scrambled eggs and my boyfriend was pleased. ♦ Since I upgraded my laptop to Windows 7, ditching Vista, it's actually become usable. Vista really is a complete dog. The best part is that I can now run Adobe Suite on my laptop which means ease of editing photos to use on this blog. ♦ NZ Marketing Magazine is a fantastic read and I am thinking of subscribing. ♦ My boyfriend is attempting to teach me how to DJ, it really is rather difficult. There is a lot you need to be paying attention to! ♦ I visited a lovely tea house for tea & scones. Pictures will follow. ♦ Spa & wine nights are my favorite evening activity. Waking up to a seriously amazing cooked breakfast was the cherry on top. ♦ Glasson's launched their 2010 Breast Cancer Research Tee's. These tee's are designed by some of New Zealand's top designers, and for each tee purchased $10 is donated to breast cancer research. You can buy them online here. I am hoping to pick one up soon.
Link Love
I did a lot more web browsing this week & so, for your viewing pleasure:
In all finality, have an awesome weekend and share a short story with me! Until next week,